Famous for not leaving well enough alone, I wanted to mount the extruder on the endefector. Lots of the problems I was having (I thought/think) stemmed from the bowden tube set up vs the direct drive style.
After seeing the EZStruder released, I decided to mount it on the endefector and just sacrifice some Z height and print speed.
To help carry around the extra weight, I upgraded to the Trick Laser arms (which are working incredibly well).
So I designed a mount in Pro-E, and used the Versa Laser at work to cut them out of 1/4" acrylic. I know its massive, but I just wanted something quick and easy. Here is what it looks like: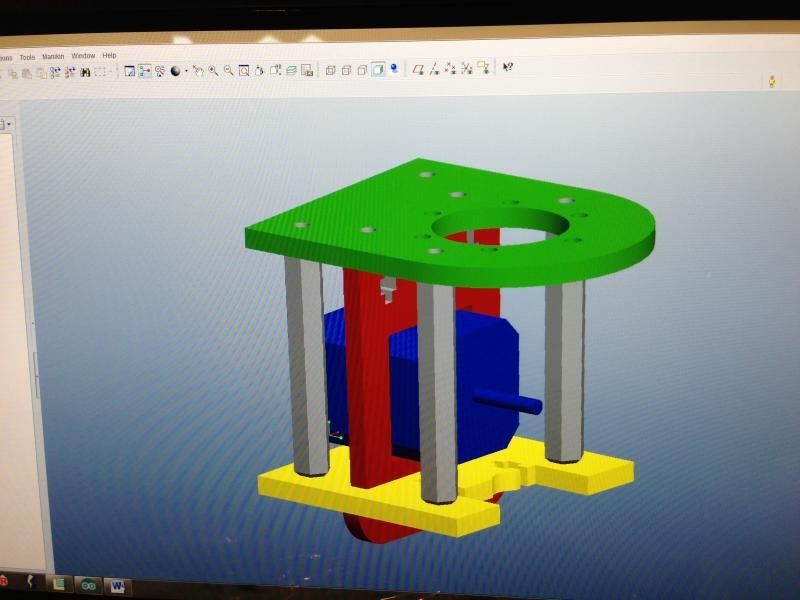 So after getting it physically mounted I wanted to make a few dry runs to see how its going to behave. It did surprisingly well, I noticed the entire printer moving a little bit when it would start doing small infill, but I had it going a little too fast.
I wanted to let it run a while, so I stepped out in the garage. A few minuets later I started smelling something burning, I rushed back inside to see literally 2-3 foot flames coming off the printer! I panicked and grabbed a fire extinguisher and put it out. Here is a picture, I wish I would have thought to get some more, but the top plate is melted to hell as well...
I noticed one of the ceramic heaters was glowing red hot (its the one that looks extra crispy in the picture)... I had all the wiring tucked out of the way while I was checking everything out, and when the heater got that hot, that close to the acrylic, it set it on fire.
I still wish I knew why it turned on. I had no thermister hooked up, and when it booted up, it realized that and said that it was in dry mode. I looked again after the fire was out and the Repetier host showed the extruder temp at -20, showed the heater turned off and said it was in dry mode. I rechecked the wiring and both heaters are plugged into the correct spot on the Rambo (same place they've been since I got them ~900 meters of filament ago)
Something went haywire and the Rambo turned that heater on and left it on... Scared the hell out of me!